Christmas Reflections on 15 years
For our milestone year, we're celebrating fifteen years of operation. Like the twelve days of Christmas, each has significance to our story and journey. Join us in our appreciation of everyone who has helped us along the way.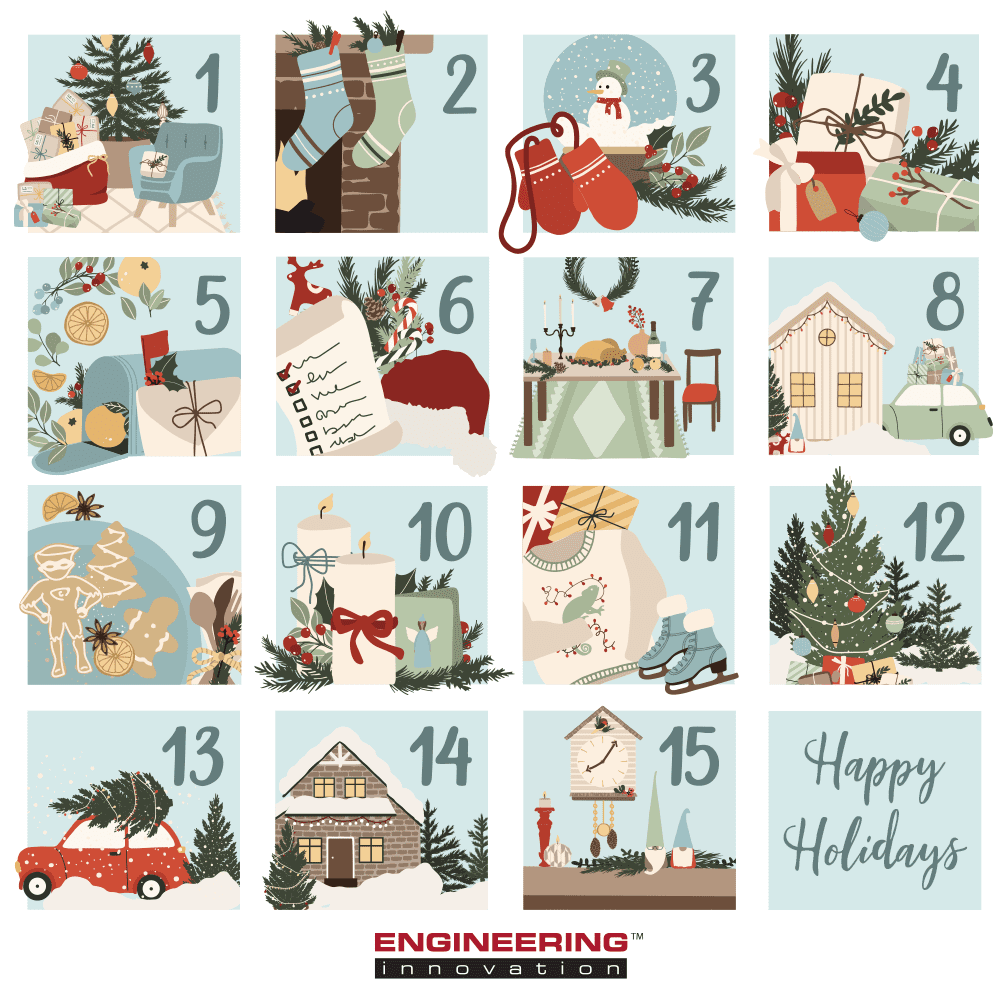 ---
Year 1 – Bundle up this season.
After our founding in 2006, Eii first developed the EZ-Flats. This machine was designed to help achieve bundle-based discounts for First Class Mail. Represented by Santa's bag filled with flats, our bundles helped customers save bundles.
Year 2 – Socks come in pairs, just like our software and hardware.
Following up on the success of our EZ-Flats, our Dynamic Sort Software was released in 2008. Pairing alongside the EZ-Flats, Dynamic Sort provides the most effective and cost-efficient method of sorting flats. Just like sorting goodies for Christmas stockings, we helped make sorting flats easier.
Year 3 – Don't forget your mittens, Champ.
One of Eii's hardest hitters, The Champ, has helped many prepare mail for commercial rates alongside providing postal savings since 2009. Alongside this, Eii reached a milestone with one hundred total customers. Every Champ needs their gloves!
Year 4 – Sorting like Santa.
2010 was a big year for Eii. That year we officially made our entrance into the parcel industry with our EZ-Parcels machine. Unveiled at NPF, the EZ-Parcels was our first foray into package sorting solutions. It built upon our EZ-Flats concept but allowed for parcels to be easily sorted. Santa needs to sort his packages quickly, and our customers do too!
Year 5 – To the North Pole and back!
We've been ensuring that letters make it to Santa each year. Eii has kept letters and vote-by-mail ballots automated. The EZ-Letters Sorter offers reduced postage cost and best-in-class character recognition capabilities. We also utilize the EZ-Letters sorting recognition and design to help process vote-by-mail ballots across the nation.
Year 6 – Keep a list without having to check twice.
As we all check our holiday shopping lists, don't get distracted by trying to track down your sensitive mail. Eii began partnering with The MAIL Group's ConfirmDelivery division to help spread cheer with the EZ-Confirm Certified Mail Solution. Offering an easy and cost-effective way to receive proof of mailing and delivery for your documents, including your important lists!
Year 7 – How big is the turkey?
No need to pull out the tape measure with EZ-Workdesk Rapid Parcel Processor. This Warehouse Automation Solution comes with all the trimmings. Our built-in dimensioner helps capture package information to generate and print an accurate label. Released in 2013, this industry-leading solution reads and interprets shipping data with ease.
Year 8 – From Santa's workshop to giant warehouses.
Ran out of space in the garage? We've been there before. Our EZ-Flats machine can turn any space into a full-fledged mail room. In 2014, our focus was on helping clients transform any size location into an effective mailing operation – a theme that continues today with our modular systems. Time to start keeping the gifts in the car!
Year 9 – Treat yourself.
In 2015 we made significant upgrades to the Champ, coming out with the Super Champ. Our most recent iteration utilizes ring scanners to create a solution to reduce errors and data collection to optimize business. This sweet deal could only be made better with Christmas cookies.
Year 10 – Light up the neighborhood.
Eii introduced our LightSort Sort-to-Light System in 2016. This product utilizes a Dual Light system, represented by a red and blue candle. Since then, we have made many improvements including our most recent Carton Flow Rack. Additionally, we welcomed the ConfirmDelivery team to Eii, making it easy for more customers to skip the handwritten green card with a simplified Certified Mailing Solution. Our Christmas Lights don't stop on the outside of the building, we keep our machines flashing and festive year-round!
Year 11 – Settle down in a warm sweater.
Previously known as our EZ-Parcels MPS Solution, we unveiled our Chameleon Parcel Processing Solution at ProMat 2017. This fully automated parcel processing system can be fully customized with individual modules to assist and blend into any environment. Leon, our wonderful Chameleon mascot, can be found on many of our graphics – including this cozy and aptly themed Christmas sweater.
Year 12 – Enter the Evergreen Jungle with Eii.
With the introduction of Leon to our team, our next step was to help tame the evergreen parcel jungle. As consumer expectations grow, shipping needs to become more affordable while getting faster than ever before. To accomplish these goals, our modular automation solutions can easily be custom-made to fit any size location as well as made to fit your budget. Whether you need a whole new setup or a new addition, Eii has the capability to optimize your process.
Year 13 – Easier than finding the right deal.
Every year there is always a race to grab the best deals on gifts. We ensure that our customers aren't settling for second place, we help find our best deal for their needs. Focusing on growing consumer expectations and more competitive shipping costs, Eii concentrated on helping get packages across the finish line. We released our EZ-Flats Autofeed – with an automatic feeder to increase your hourly throughput. Additionally, our Chameleon Parcel Processing Solution and award winning LightSort Sort-To-Light create an environment where sorting and processing can be completed faster than before.
Year 14 – Home for the holidays.
eCommerce saw a gigantic surge in popularity as many stayed home in 2020. Throughout all this Eii stayed open, with our equipment helping many get their packages delivered on time – even during a peak off-season. There's truly no place quite like home, and we've grown so much over this time.
Year 15 – 15 years and counting!
15 years is no easy feat! Truth be told, we couldn't have done it without the help of every employee, customer, and connection we made along the way. Thank you all, we will continue to provide custom solutions for many more years to come. We've hidden a couple of surprises in this last image. Our founders Don and Adam are represented by the two Gnomes. Can you find our subtle nod to the year it all began?